Everyone has felt the impacts of Covid-19, including the residential building sector. With people spending less time exploring the world and more time within their homes, the common demands from clients have shifted to accommodate a more live-in focus. Buildxact's Residential Construction Activity Report recently identified a strong demand for custom-built home projects and renovations. But this really comes as no surprise.
The cookie cutter homes no longer cut it! People are more conscious of the space and style they want to live in, and are after custom designs that suit their specific needs and wants. The home is no longer a place to just sleep and eat, but a place to work, exercise and socialise. So ensuring that the spaces we dwell in are capable of accommodating to all these needs is crucial. As everyone is becoming more conscious of how they utilise their current spaces, they are also becoming more aware of how they would like to use their homes. This could mean bigger bedroom sizes, more space in the kitchen or even the addition of a multi-purpose home office space to suit an individuals lifestyle.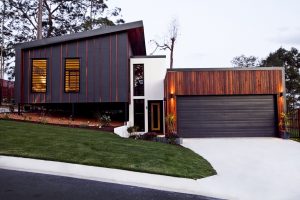 This 'awakening' of individuals desires when it comes to their homes, couldn't have come at a better time. With many people unable to spend money on overseas trips, they can invest in building their dream homes in Queensland. And it's not just Queenslanders that are looking to build custom homes in Queensland, but also an influx of people re-locating to the sunshine state from surrounding areas and states. Areas throughout Brisbane, Brisbane Eastern Suburbs, Brisbane Southern Suburbs, the Redlands and Cleveland are seeing an increase in custom home builds with all the features a home-owner would require in the ever-changing landscape COVID has created.
With COVID not only opening more opportunities for individuals to work and attend school from home, but also occasionally requiring this; the need for home offices and flexible work environments has increased. This has seen a rise in the purchase of acreage and waterfront properties as the ability to work from home has allowed people to live further from the city and build custom designs on their desired blocks.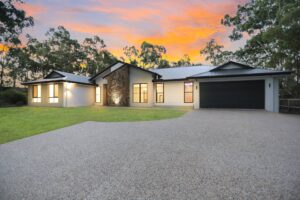 Custom home designs post-covid have a strong focus on unique designs, natural light, open living and great outdoor spaces. Custom homes allow home-owners the ability to utilise their space how they see fit, for any purpose they require. For those with children returning home to reside with family or with children who are doing online studies, homes are hives of constant activity which can result in a lot of noise and the need for peace and quiet. A new custom home can make use of a high quality build with the opportunity to design spaces that suit every household member. Having a home that can accommodate everyone's needs and provide a space for all to enjoy is essential, and it what makes a custom home such a great choice.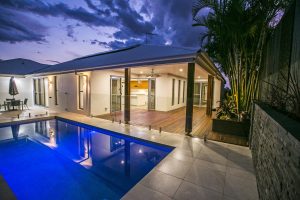 If you are looking at a custom homes and would like some inspiration, check out our portfolio of Leafe Designer Homes built throughout Brisbane, Brisbane Eastern Suburbs, Brisbane Southern Suburbs, the Redlands and Cleveland.
Wanting to know more about Leafe Designer Homes? Discover more about our experience in custom home builds here.  If you would like to discuss some of your ideas with us, get in contact!